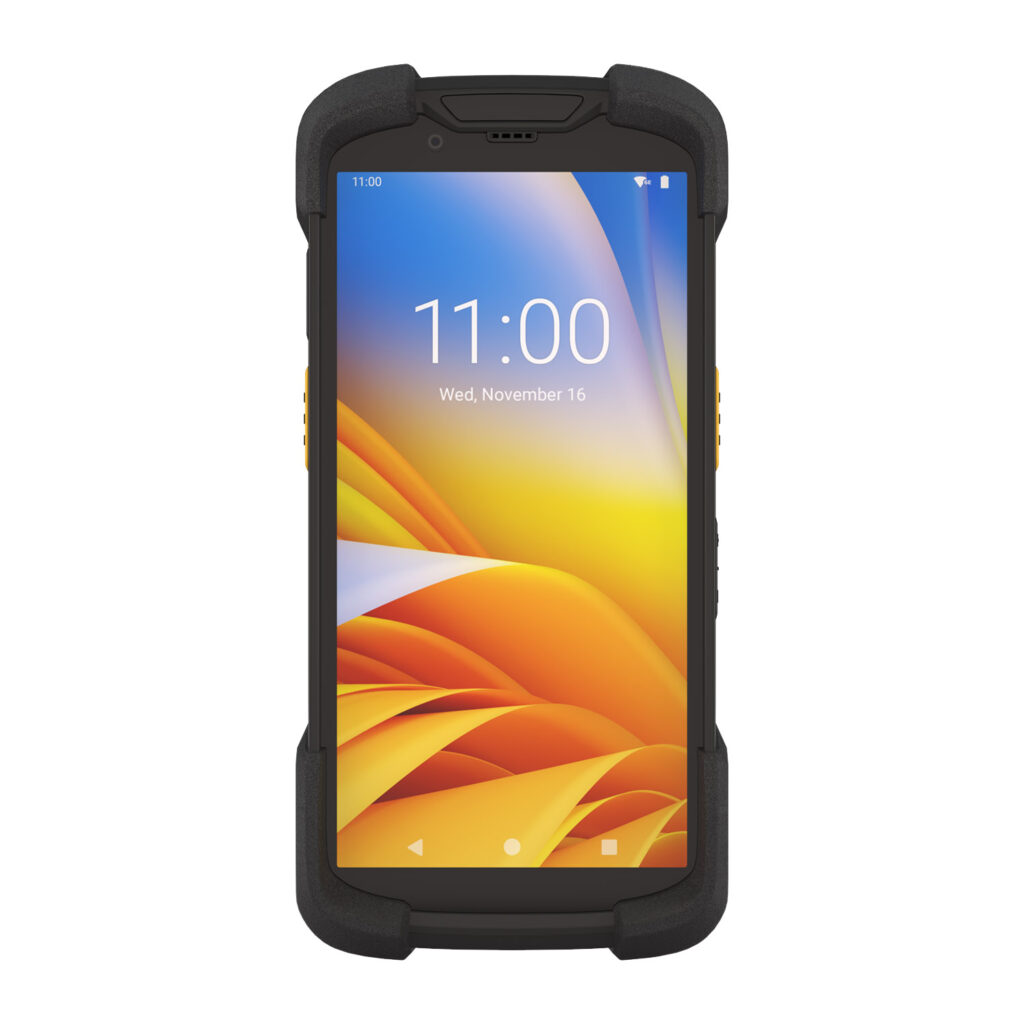 Zebra's ultra-rugged TC73/TC78 Series Mobile Computers take service to the next level providing the ultimate user experience inside the four walls and outdoors. Introducing the Zebra TC73 and Zebra TC78, a new breed of portable computers made for a new breed of mobile solutions. The durable, slimmer, and lighter TC73/TC78 supports all of them, including streaming video, video calls, intuitive multimedia-rich applications, and augmented reality apps that allow new, more efficient workflows. For support of many apps, more processing power is needed. A modern 6-inch display. more battery flexibility. Wi-Fi 6E, 5G, and CBRS1 all offer comprehensive wireless network support for unsurpassed performance and dependability. For better performance with accessories, use Bluetooth 5.2. The SE55 Advanced Range scan engine provides the next level of scanning capability. Audio and video calls with crystal-clear voice quality. Include the capabilities of a workstation, a two-way radio, RFID, a PBX phone, and a mobile dimensioning solution that is integrated. All facets of the TC73/TC78 are made simpler by mobility DNA tools. The TC73/TC78 offers Mobility DNA tools and five years of product availability with a full 10 years of service and support.
Top 5 reasons to choose the TC73/TC78 for your business
Achieve peak levels of workforce productivity

In the most demanding applications, best-in-class processing power and the most recent wireless connections, such as 5G, Wi-Fi 6E, and CBRS, enable almost immediate reaction times, enabling workers to close out orders, search up information, access databases, and more more quickly than before.

Re-imagine workflows with entirely new data collection possibilities

Without moving, scan a shelf tag on the uppermost rack. Push a button to instantly determine shipping costs and precise parcel dimensions. Using RFID, quickly count your goods. Instantly set up a complete workstation for reading information on a large screen or performing intensive data input. Transform the TC73/TC78 into a PBX handset and two-way radio. Get ready to take payments safely using tap to pay and other methods.

Step confidently into the future

Cutting-edge technology offers new, more efficient workflows, ensuring that you are prepared for whatever comes next. The TC73/TC78 delivers built-in support for future workflows, from ARCore-based applications like augmented reality to extremely precise indoor locationing, video calls, intuitive multimedia-rich apps, and next generation payment solutions. You may also expect a lengthy lifetime, with five years of availability and a complete ten years of service and support.

Tougher, thinner, lighter

The award-winning Industrial Design team at Zebra has created a gadget that is incredibly robust, lightweight, and thin. That means your company will benefit from an industry-leading drop standard to reduce device damage, while your employees will have a device that is easy to handle, light to carry, and comfortable to use all shift long.

Mobility DNA — your mobile computer's built-in advantage

Where other mobile computer manufacturers stop, Zebra continues to provide software capabilities for every user and use scenario. Built-in apps, utilities, and tools maximize device performance from the start – from integration, security, and deployment to easy maintenance and optimization.