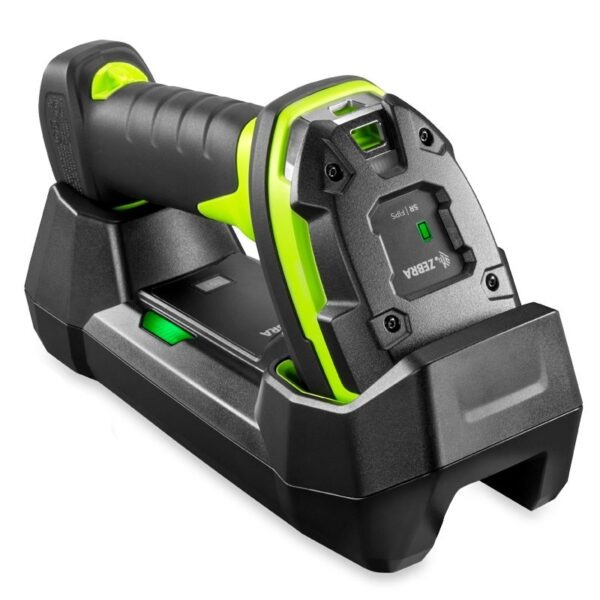 Step into the realm of industrial barcode scanning with the unstoppable Zebra DS3678 Industrial Scanner, seamlessly brought to you in collaboration with our esteemed partner, MIST. This remarkable scanning solution doesn't just meet the challenges of harsh industrial environments – it conquers them. A proud member of the DS3600 Series, this scanner is purpose-built to weather extreme conditions like a true champion. Imagine a device that's not only tough but goes beyond – it's 23 percent more rugged than its competitors, and it's unyielding even after an astonishing 8 ft./2.4 m freefall onto concrete floors.
Partnering with MIST, an industry trailblazer in delivering cutting-edge industrial solutions, the DS3678 Industrial Scanner opens doors to a range of models, each tailored to cater to specific needs. Let's give a warm welcome to the DS3678-SR (Standard Range) model, a wireless wonder that's industrial-grade and ready for action. It's not just about reading barcodes – it decodes the future. From 2D and 1D to PDF417, QR Code, and Postal Codes, this scanner's capabilities are boundless. With the magic of Bluetooth connectivity, FIPS compliance, a pulsating vibration motor, and the seal of IP67 against dust and water intrusion, it's not just a scanner – it's your steadfast partner amidst the industrial whirlwind.
But wait, there's more to captivate you. Brace yourself for a scanning experience that defies limits – the DS3678 Industrial Scanner redefines excellence in decoding 1D and 2D barcodes, no matter their condition. It's not just about reading barcodes – it does so with an edge, capturing codes from screens or labels with unrivaled speed and precision. It effortlessly outpaces traditional scanners, taking on the challenge of codes hidden beneath shrinkwrap, damaged surfaces, smudged ink, or those that play hard to read.
Battery worries? Cast them aside. The DS3678 Industrial Scanner's battery comes with a sturdy twelve (12) month warranty from the moment of shipment, promising enduring performance even under demanding workloads.
In a nutshell, the Zebra DS3678 Industrial Scanner rises as an irreplaceable asset in the industrial arena. Its resilience, innovation, and unswerving commitment to uncompromising standards set a new benchmark. From warehouses to factories, and the toughest terrains where top-notch barcode scanning isn't a luxury – it's a necessity – the DS3678 Industrial Scanner stands tall. Embark on a journey of possibilities at www.mistgulf.com, your gateway to industrial solutions. MIST's unwavering reputation for excellence seals the deal. Embrace the Zebra DS3678 Industrial Scanner and rewrite the script of your industrial barcode scanning experience, powered by the dynamic partnership with MIST.